The Baddest Woman on the Planet was only active for half of the evaluation period, but her impact is undeniable. After a brutal attack by Charlotte Flair at 2018 Survivor Series, she showed up on Raw the following night and said she would still defend her title, making it a tradition for her after the PPVs. Mickie James answered the challenge and was defeated in two minutes.
Then, Nia Jax decided to cash in her contractually obligated title opportunity that she earned at Evolution. The match was set for TLC PPV. In the build-up towards the PPV, Rousey teamed up with Ember Moon to defeat Nia Jax and Tamina in the main event of Raw. At TLC, she managed to tap out Jax after a competitive match. Later on that night, she interfered the Triple Threat TLC match, pushing Lynch and Flair off the Ladder, thus helping Asuka win the SmackDown Women's title.
The following night, a Gauntlet match was set to crown a new challenger for Rousey, which was won by Natalya. They teamed up that Friday at Tribute to the Troops, defeating Jax/Tamina and The Riott Squad in a Triple Threat Tag Team match. They faced each other the following Raw in what would be Rousey's longest singles match. Rousey retained her title by submission.
Rousey teamed up with Natalya again to defeat Jax and Tamina in the main event of Raw. Rousey tapped out Tamina for the win. Following Sasha Banks' victory over Jax to become the new #1 Contender, they teamed up to defeat Jax and Tamina. The following week, Banks and Bayley defeated Rousey and Natalya, in what would be Rousey's first official WWE loss, although Natalya tapped out. At Royal Rumble she retained her title over Banks with The Piper's Pit.
The following night, she defended her title again. This time, Bayley answered the challenge and was defeated after a long match. Rousey went on to defeat Sarah Logan and Liv Morgan one after another. This resulted in Ruby Riott getting a title shot at Elimination Chamber. Ruby was defeated in less than two minutes. She got her rematch the following night, where they squared off in the main event. Rousey submitted her to win.
The following week, she teamed up with Natalya to face Ruby and Sarah. It resulted in DQ after Becky Lynch interfered. At Fastlane PPV, Rousey interfered the Lynch and Flair match, resulting in Lynch being added to the WrestleMania match. The following week, she defeated Dana Brooke in 20 seconds to retain her title. On the build-up to WrestleMania, the three competitors faced The Riott Squad in a Six-woman Tag Team match, where Rousey tapped out Liv Morgan.
At The Grandest Stage of Them All, Rousey became the first woman to defend her title in the main event of the PPV. She made a grand entrance, with Joan Jett performing her theme song live. After a hard-fought 20 minute match, she lost her title after Lynch caught her with a crucifix pin. She broke her hand in the match, which resulted in her having surgery and taking time off, as well as wanting to start a family.
We haven't seen The Rowdy One in 8 months, but her impact is still felt in the women's division. After all, she made the women's WrestleMania main event happen and was a big part in Becky Lynch's rise to stardom. She adapted to the wrestling ring with ease and her matches had that extra physicality that we don't often see. Royal Rumble is around the corner and who knows, maybe it's time for Rousey to collect debt and get back what she lost from Lynch, her Raw Women's title.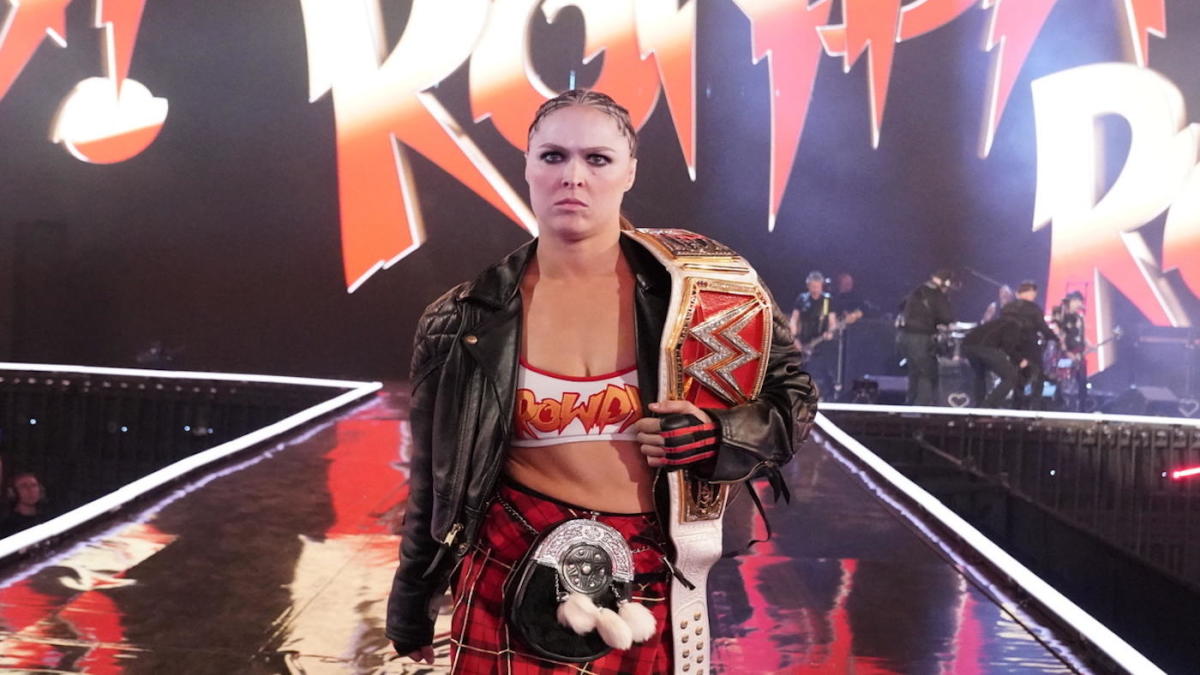 Check with us tomorrow as we reveal #4 on our list!